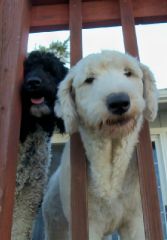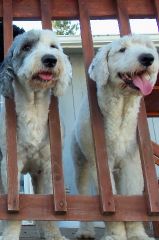 We have retired many of our dogs and added some very nice males and females to our program, like the famous Miss Ruby, Fizban, Cruz, etc. Because our website is under construction you won't see them here yet. Check back from time to time to see the improvements, thank you.

About our Dam Fiona: She is AKC and CKC registered. Fiona is a 4 year old Old English Sheepdog (OES) and is in excellent health. She has been raised in our home and is part of our family. She is well socialized with children as well as dogs and cats. Fiona is extremely smart and enjoys the snow, swimming, and taking walks. Fiona is called "the protector" or "the leader" of our pack as she has strong maternal instincts. Kayla, our granddaughter, is 6 years old and Fiona is extremely gentle with her as well as other children. Fiona completed basic training and has had some rally training and did very well, she has a "pleaser personality".


About our Dam Princess Bella: She is AKC and CKC registered. Bella is Kayla's dog and is a 2 year old Old English Sheepdog (OES). She will have her first litter in the summer of 2012. Bella is full of energy, playful and very gentle. She and Kayla have a very special bond and they spend lots of time together. Like Fiona, Bella is incredibly smart but was easier to train. Bella like Fiona tends to herd our other animals, but she is very gentle with them. We chose Bella for her coloring and body structure as she is almost all white and she has a smaller frame than Fiona. Bella's legs are shorter; she has a blocky head and weighs far less than Fiona. We believe Bella's pups will be smaller and their average weight should be between 55-70 lbs. vs. Fiona's pups have average weight of 70 to 85 lbs.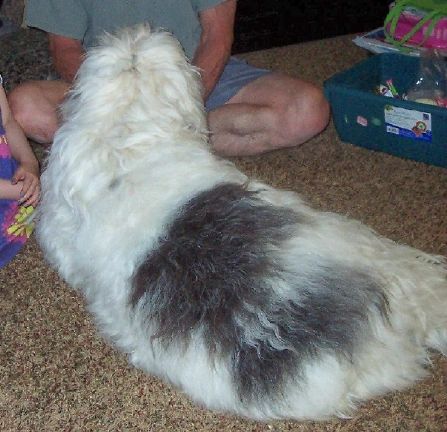 Old English Sheepdog Information:
Adult Size: Females 20-22 inches and 60-80 pounds; Males 22-24 inches and 65-100 pounds; Breed Group: herding. Characteristics: high energy level, clown like personalities, life expectancy 10-12 years

The OES is ideal for homes with children. They are known for an even temperament and non-aggressive nature and have a reputation of being clownish as well as big teddy bears. The herding instincts are still very prevalent in the OES dog. As a result, they love to play and will join in almost any activity. Because these dogs are not inclined to roam far from home, they are the ideal companion. The OES has two coats and because the undercoat has a tendency to shed and mat, it is very important to get them accustomed to being brushed and clipped as soon as possible. In particular, you will need to be able to brush and cut in sensitive areas, such as behind the legs, between toe pads and around the ears.
The OES has two colors that are completely separate colors, white and gray. The origin of the OES is not known exactly. There are some indications of Russian ancestry as well as English. Historically, these dogs were used for herding farm animals and guarding them. In some cases, these dogs were sheared in the same way as sheep and their hair was spun into yarn.
About our Sire/Stud Finnegan: He is a Black and White Parti Standard Poodle and is AKC and CKC registered. He has an awesome personality and is very gentle. Finn has a "telepathic" personality (commonly found in Poodles) as when I am sad he is the dog that wants to comfort me, he'll lay his head in my lap or if I am standing he will lean into me as if to say "here I am and I'm here to comfort you". Finn can jump very high (almost 6 feet) when he is happy, however he has never jumped our fence and is very content to stay with his family. He is a great guard dog and alerts us if anyone comes near our home.
Finn is also available for stud. He can be bred to any Dam for a doodle breed, i.e. Labrador, Golden Retriever, Schnauzer, etc. or another Standard Poodle or Parti Poodle. He has a great pedigree and comes from Kit-Sue poodle line. His stud fee is $500; please contact us if you are interested in breeding with Finnegan.


Parti Standard Poodle Information:
Adult Size: Females 20-22 inches and 40-65 pounds; Males 22-24 inches and 50-80 pounds; Breed Group: hunting. Characteristics: average energy level, upbeat and cheerful personalities, life expectancy 12-15 years.

The term "Parti" technically refers to any poodle whose coat is of more than one color, part one color and part of another color. With a true genetic Parti, when you shave them down, the skin is very obviously two separate and completely different colors with strong break lines between the colors. Also, the primary coat color of the Parti is white, with the other color being any one of the other accepted Poodle colors. A "Parti Poodle" is basically a white dog with broken patches of color.

The Parti colored black and white poodles have been seen in drawings and photographs as early as 1561 and in many well-known 1800's artwork. Poodles are a highly adaptable breed, prized for their non-shedding coat and intelligence. They're as comfortable acting as hunting dogs as they are companions to children and senior citizens. Poodles tend to be very smart and easy to train. They're ideal for a first time dog owner and families with young children. Historically, Poodles go back at least 400 years. They were originally used extensively as hunting dogs and guard dogs. It is not known precisely what part of Europe these dogs originated from, but contemporary historians tend to associate them with France, as Poodles are a favorite of that nation.